FOR INQUIRIES & ORDERS
CALL (347) 782-1413
OR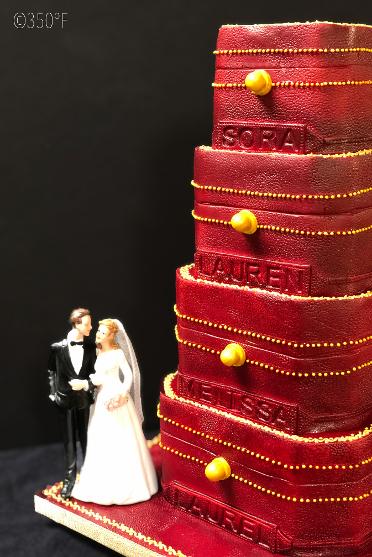 Stacked Cartier-style boxes - a celebratory cake for 4 birthdays and a wedding!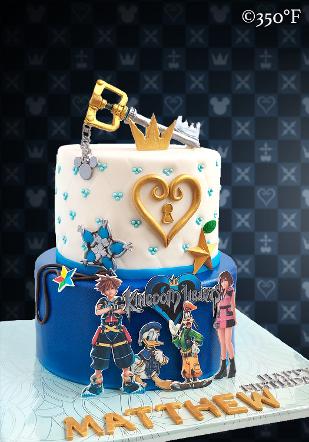 The key to a successful celebration - Kingdom Hearts themed tiered cake for an adept video gamer's birthday.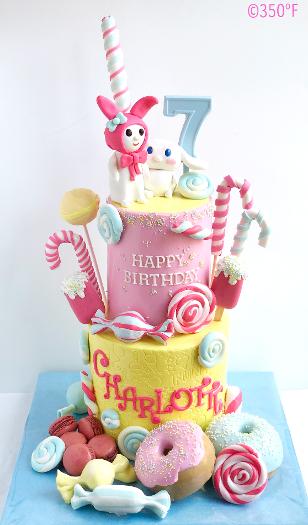 Charlotte's sweetest birthday cake ever in Sanrio theme.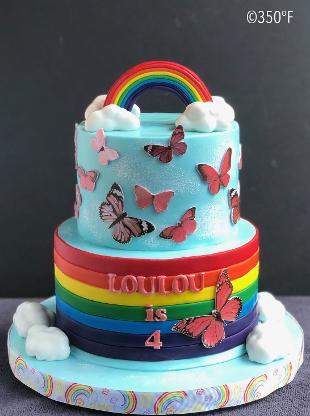 A colorful and cheerful rainbow cake for the spirited LouLou's 4th birthday, flocked by butterflies in LouLou's favorite color, pink.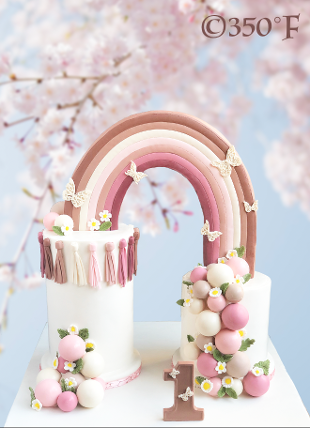 To celebrate Dahlia turning 1, her mama decided on this design consisting of a deconstructed 2-tiered rainbow cake in a neutral color scheme. We createdthe tassels and balloons using chocolate and fondant in colors that matched the party decorations. Pretty, isn't it?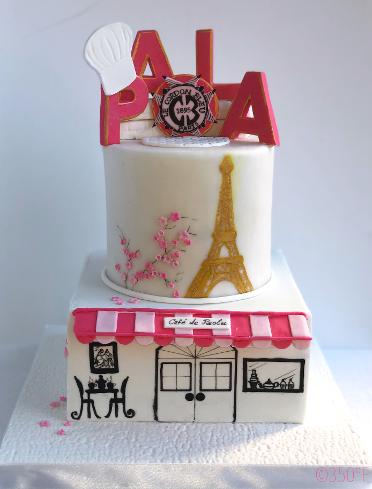 Paola, an aspiring Chef, celebrated her sweet 16 with this Paris/Culinary themed sweet treat.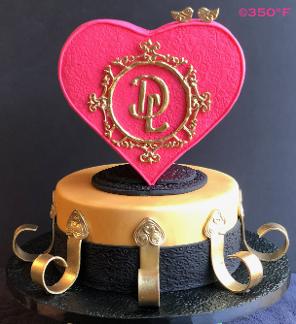 A birthday cake with a sculpted 3D heart top tier specially designed and created for the birthday of an entrepreneur. Featured on the heart cake is a hand piped logo of her venture.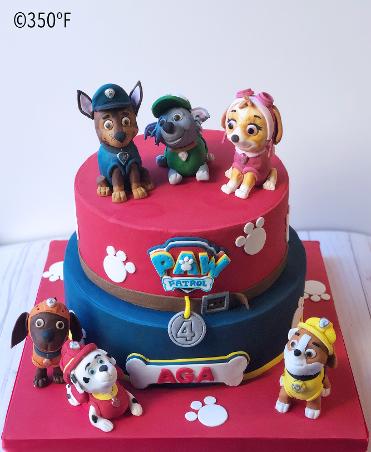 All pups of Paw Patrol have been rounded up for Aga's 4th birthday celebrations!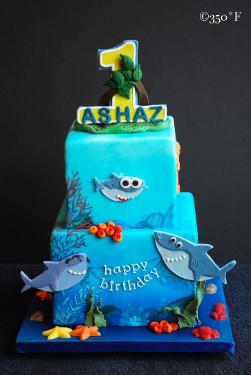 A tiered cake in the theme of a baby song "Baby Shark" for Ashaz's 1st birthday.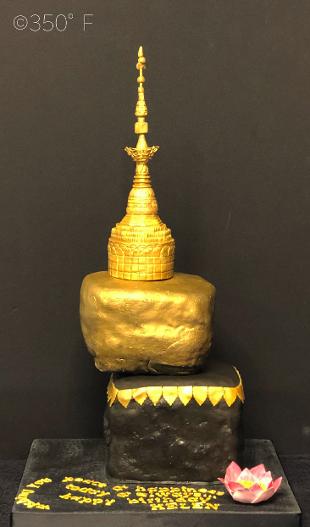 A loving husband's gift to his dear wife on her birthday - a cake and chocolate replica of Kyaiktiyo Pagoda in Burma, her happy place.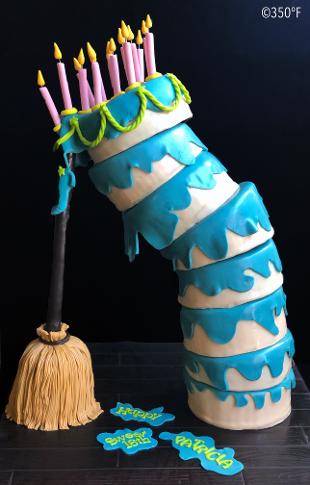 Patricia wished for a recreation of Sleeping beauty/Aurora/Briar Rose's 16th birthday cake. We granted her wish by engineering this gravity-defying tiered cake!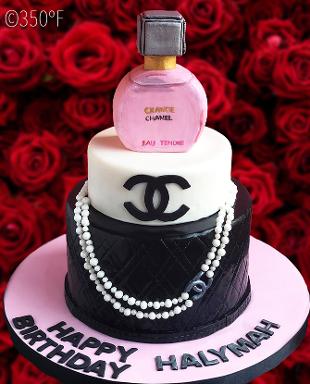 A fashion brandinspired treat for Halymah's 30th.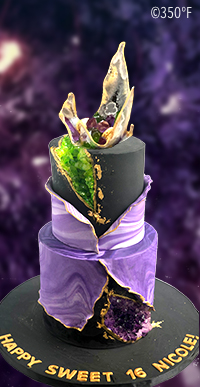 This 2-tiered beauty was custom created for dear Nicole for her Sweet 16 celebrations. Featured are amethyst and peridot geodes and a bowl filled with gems, all made of sugar!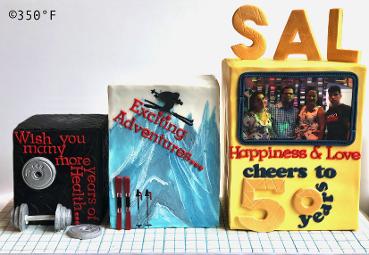 A deconstructed tiered cake for Salvatore's 50th birthday bash. Salvatore is an accountant with interests and hobbies such as fitness training and skiing. But, the most important part of his life is his family, which we decided to feature on the final and the tallest tier in the 3D bar graph formed by the 3 tiers!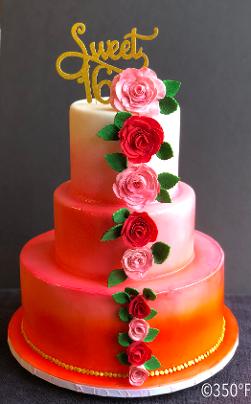 Ashleigh's rose drop ombré cake in red, pink and white to celebrate her Sweet 16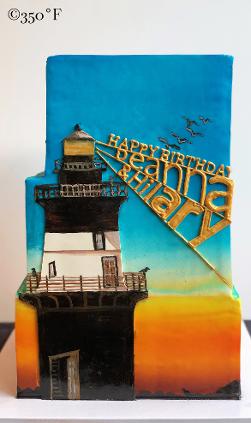 Orient Point Light House, a mother and daughter's favorite landmark, featured on their surprise cake for a double birthday celebration.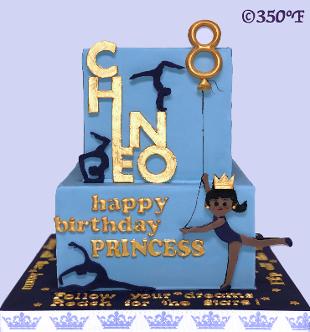 Chineo, a gymnast and a little princess to her parents celebrated her 8th birthday bash with this special tiered cake.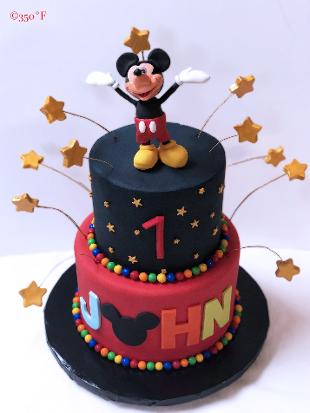 Hand-molded Mickey Mouse cake topper for John's starry 1st birthday.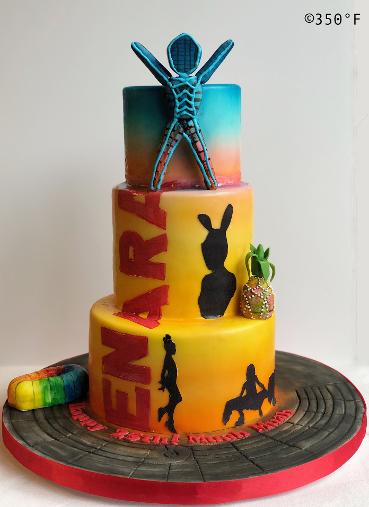 A cake celebrating the talented Enara's 25th birthday reminiscing the memorable times she had at the Burning Man Festival.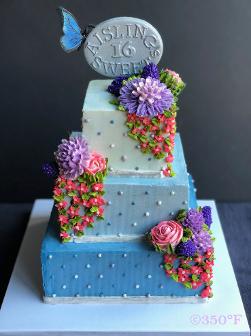 An ombré tiered cake for Aisling's Sweet 16 with a custom edible cake topper.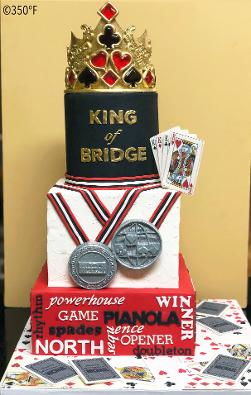 A bridge-themed birthday cake for an international Bridge player with recreations of his medals in cookie and sugar!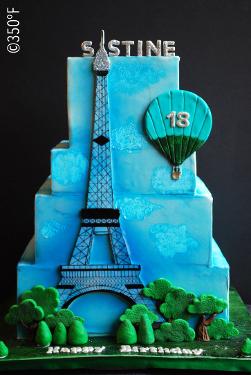 Destination - Paris, Event- Debut/18th birthday, Theme - Travel : a tiered cake to celebrate Sistine and her love for globe trotting.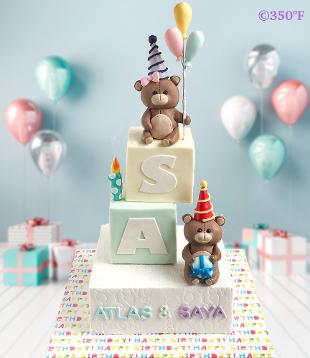 Baby blocks and adorable teddy bears - what better way to decorate a twins' 1st birthday cake?!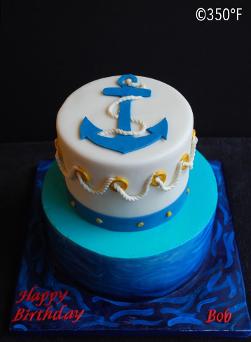 A nautical themed tiered cake for a gentleman's milestone birthday.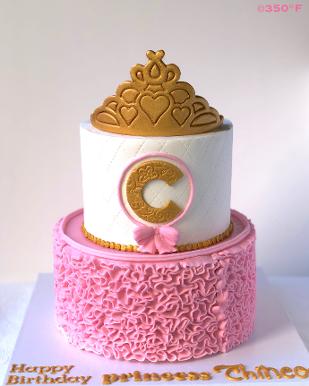 Princess Chineo's celebratory cake for her 9th birthday.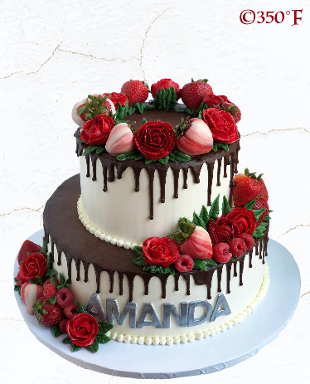 Buttercream roses, fresh raspberries and chocolate-covered strawberries provide a pop of color to Amanda's Sweet 16 cake.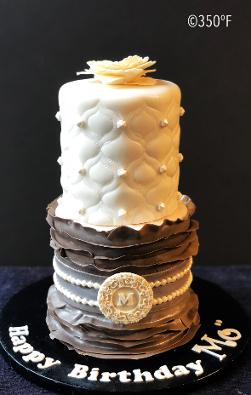 A monogrammed fashion-inspired cake for Monett's 33rd birthday gala.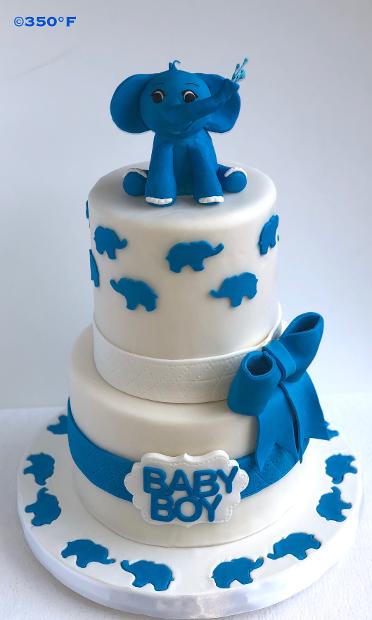 A hand-molded baby elephant topperis the highlight of this adorable baby shower cake.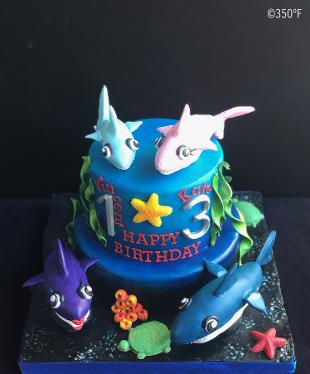 For the double celebration of a brother and sister's birthday, featuring 3D models of baby shark and his family.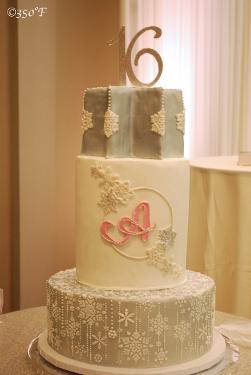 A Winter Wonderland themed Sweet 16 cake for Anisah, made special by the top-most tier that was sculpted in the shape of a snowflake.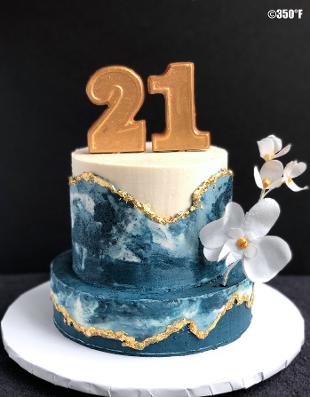 An all buttercream marble-effect cakewith 24K gold leaf gilding, chocolate "21" topper and a rice paper orchid for Ada's 21st.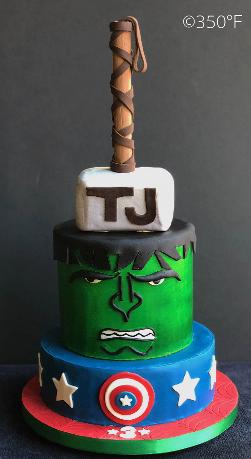 Captain America, Hulk and Thor make TJ's 3rd birthday bash Super Special.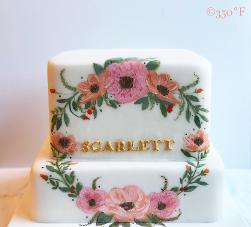 A hand-painted floral tiered cake to celebrate lil' Scarlett's Baptism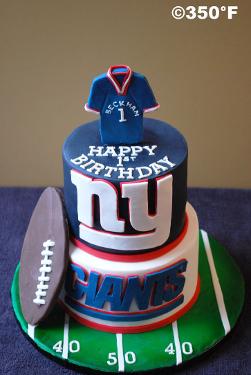 A first birthday cake in the football theme for afuture MVP.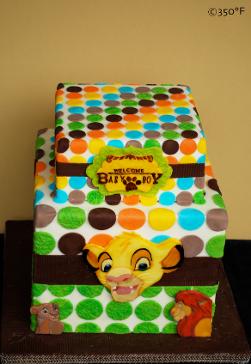 Lion King themed Baby Shower cake to welcome the pride of the family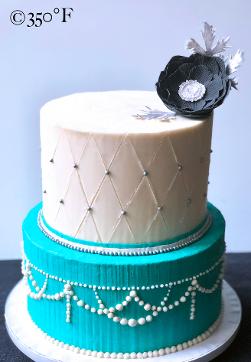 A traditional, vintage-inspired buttercream cake for a "Breakfast at Tiffany's" theme 50th birthday gala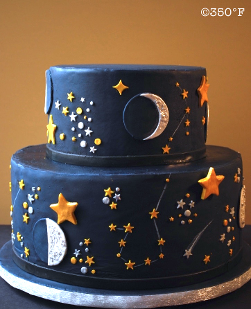 A celestial Sweet 16 cake with Morgan's astronomical constellation of the Scorpio and a shooting star for her to wish on.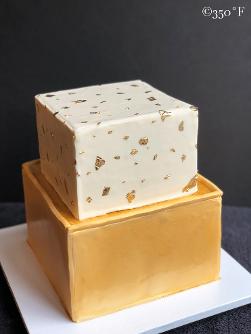 A gold + white tiered cake with 24K gold leaf speckles for Tashi's Sweet 16 - a simple yet opulent dessert.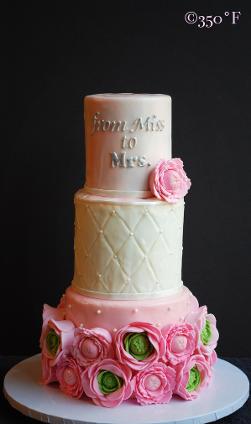 A floral tiered cake for a bride-to-be as she steps into a new and exciting phase in her life.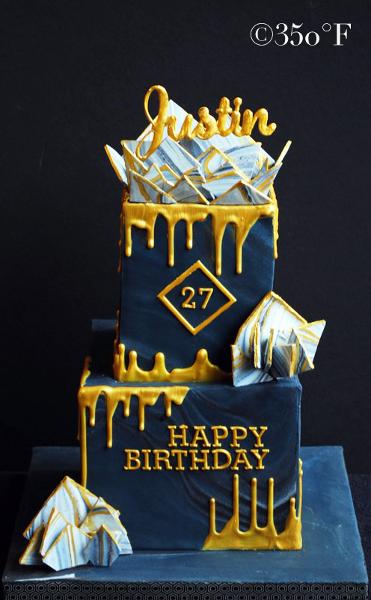 A rustic gold drip cake with chocolate marble shards for Justin's 27th birthday bash.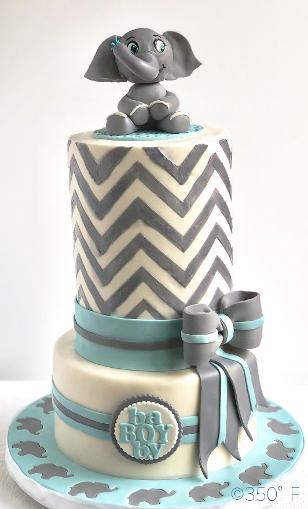 A baby elephant enjoying a splash on this 2-tiered baby shower chevron cake.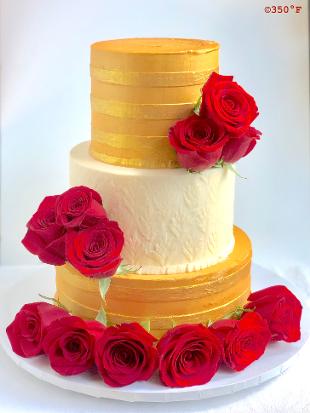 A beautiful buttercream cake in white and gold, dotted with fresh red roses for a 25th wedding anniversary celebration of a lovely couple.
FOR INQUIRIES & ORDERS
CALL (347) 782-1413
OR